Because an entire production Unit is cleaned in 24 hours on a feed-out/feed-in basis, Customers have now an alternative to tolerating the current situation of performance decaying during the run.
By having in mind the conventional mechanical cleaning and a downtime of at least 15-20 days for cleaning, the performance of the Units is allowed to decay because this is more remunerative than losing production.
It is not uncommon to see situation like these…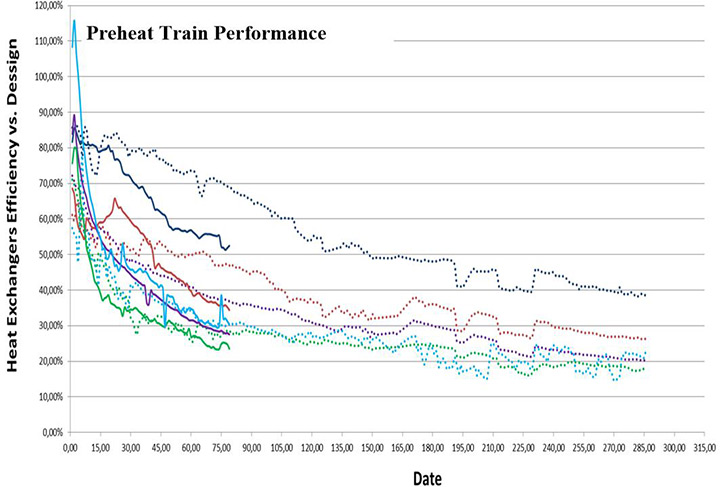 ITW Online Cleaning is now offering Operators a possibility of recovering the performance in 24 hours and resuming production immediately after.
After a ITW Online Cleaning application the Unit will start up under clean conditions, thereby eliminating or reducing the bottlenecks and/or the inefficiencies experienced during the run. ITW Online Cleaning's ease of application and effectiveness rapidly restores good and profitable operations even under severe climate conditions, thereby recovering efficiency without the need to wait for better conditions.
ITW Online Cleaning application during a unit run allows achieving the following benefits:
Increasing run length
Increasing productivity
Reducing downtime
Improving HSE
Improving reliability
Improving product quality
Improving energy efficiency
Reducing airborne emissions
Reducing emission taxes to be paid
Reducing maintenance and repair
Reducing organizational requirements
Return on investment
ITW Online Cleaning is the only technology which has an immediate return on investment (ROI). At unit start-up (just after 24h ITW Technology has been applied), all the benefits are immediately monetized in terms of, e.g.:
Increased throughput
Increased energy efficiency
Improved product quality
Increased run length
Avoidance of cleaning during turnaround
A regular ITW Online Cleaning can open up new ways of recovering losses vs the conventional accepted costs.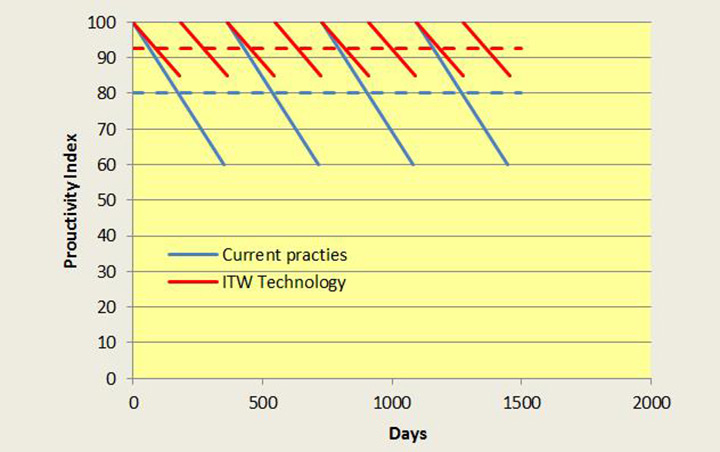 Operating costs reduction
By reducing furnace fuel consumption, ITW Online Cleaning will immediately reduce operational costs. A further contribution in operational cost reduction will arise from pumping cost reduction, following delta P reductions.
Not to mention debottlenecking which will allow for increased throughput.
A regular ITW Online Cleaning will increase run length and avoid turnarounds; at the very end turnaround activities can be rescheduled by eliminating/reducing the need for mechanical cleaning.
Emissions reduction
The overall energy consumption reduction will translate into a lower fuel consumption and hence a reduced emission level. Apart from the environmental performance improvement, always remarkable in terms of the company's overall performance, this will lead to an emission taxes costs reduction. The pro-active application of ITW Online Cleaning is therefore a power tool for improving Operational Excellence and for increasing revenues over losses.
Budget can be hit and beaten by a mind shift over the conventional approach.